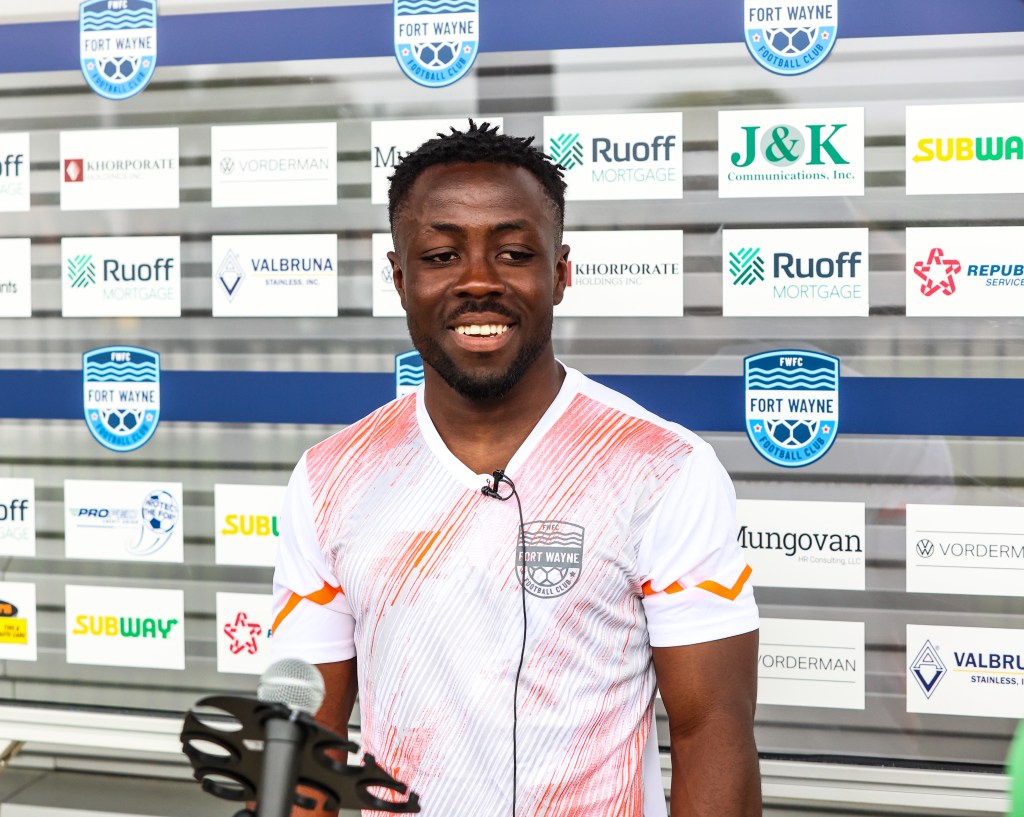 Media requesting press credentials for a Fort Wayne FC match must submit a request to lperolio@fortwaynefc.com no later than 48 hours prior to kickoff. Press credentials may be given on a single-match or full-season status.
Credentials can be picked up at the Ticket Booth beginning one hour prior to kickoff. Please be prepared to present photo identification upon arrival.
Professional Policy
Media members may not use credentials for preferential access to FWFC owner, DaMarcus Beasley, including such as autographs, photographs, or personal requests. Violation will result in immediate loss of credentials for any future match.
MATCH DAY GUIDELINES AND ACCESS
Parking Passes
• Members of the media are approved for season credentials and will receive an e-parking pass. Lots may vary. Upon entry, simply show your e-pass to parking personnel.
• TV Trucks: Parking spots closer to the stadium are very limited and are available on a first-come, first-serve basis. Please contact Laurie Perolio-Bullinger for additional questions.
Media Will Call & Entering Bishop John D'Arcy Stadium
• After parking, please proceed to the stadium main entrance
• All media members must check in for each match through the Ticket Booth entrance. Photo ID is required for admission.
• Media check-in will open one (1) hour prior to kickoff unless otherwise noted.
• Credentials MUST be worn and visible at all times. Please report lost credentials immediately to Laurie Perolio-Bullinger. Credentials can be kept for the season.
• Photographers and videographers will receive credentials at media check-in and must be worn at all times while in the stadium.
• Field assignment for photographers and videographers to be discussed prior to each game. Pressbox seating for reporters is available based on a first-come basis.
On-Field Guidelines
• At no time is the media including photographers or videographers permitted to access the field. Media is allowed on outside perimeter around the field.
• Only properly credentialed members of the media may access the outside field area.
• Media members will not be allowed to access the field area while team personnel is entering or exiting the field.
In-Game Video & Photography Guidelines
• On-track photographers and videographers will receive assigned seating areas for each match.
• There is no photo access behind the goals without prior approval from a member of the FWFC management staff.
• Photographers may only shoot competition from the field. Areas barred from competition photography include the stands, locker rooms, the press box, and the concourse. The technical area and sidelines are off-limits to media without prior approval from the FWFC Management team. Media members may not shoot in the stands or concourse without prior approval from the FWFC Management team.
Halftime – Field Access – Media
• There is NO FIELD ACCESS during halftime for members of the media including photographers or videographers. You are permitted to take images/videos of players and/or coaches as they exit the field – however, this must be in the media access area only.
• NO INTERVIEWS are to be conducted at halftime with any Fort Wayne FC or opposing team players, coaching staff, Operations Director, and including co-owner, DaMarcus Beasley.
• No requests for pictures or video of DaMarcus Beasley are permitted during halftime.
Post-Game Field Access – Media
• Following the conclusion of the match, media members must clear the field area as soon as possible. Photographers/videographers may not enter the field of play or follow players during post-game activities.
Post-Game – Coach and Players Access – Media
• After a reasonable waiting period, defined as 10 minutes after the completion of the match, the home team will be available for a press conference with all accredited media with immediate access. This will be held either outside on the field or in the concourse area of Bishop John D'Arcy Stadium.
• Fort Wayne FC head coach, Mike Avery, along with select players will be available to take questions from the media through a moderated postgame press conference.