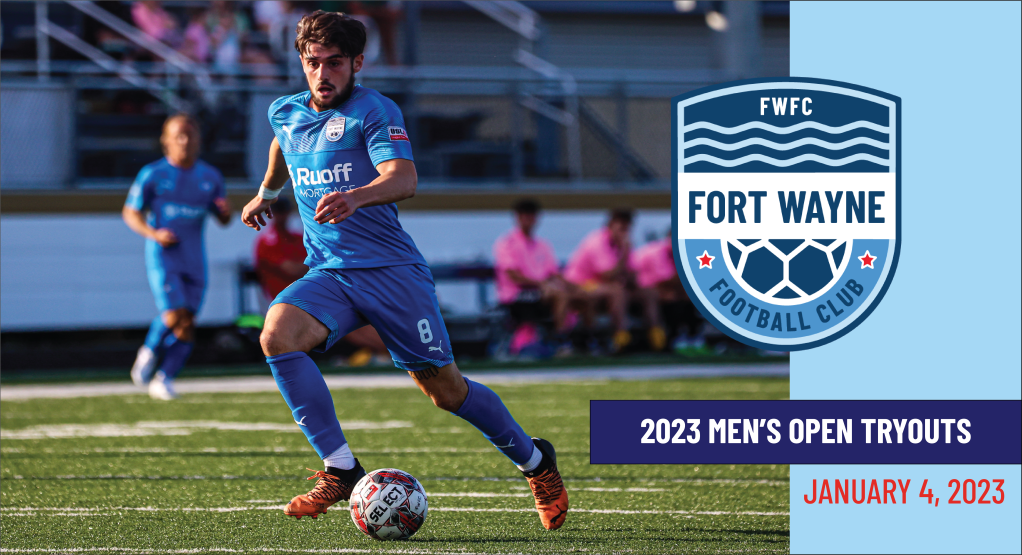 We're searching for soccer stars.
As part of the United Soccer League Two, we're proud to bring professional soccer closer to fans and supporters right here in Fort Wayne. Think you have next-level talent and the path-to-pro drive to play professional-level soccer for Fort Wayne FC?
Fort Wayne FC invites you to participate in the club's 2023 Men's Open Tryouts to be held at the Plex South, located at 5702 Engle Road in Fort Wayne on January 4th. Two sessions will be held from 9 AM to 10:30 AM and 11:00 AM to 12:30 PM. Each session is open to 50 participants.
Early Bird Registration fee is $75 and valid until midnight on January 3rd. Registration fee is $100 on the day of the event. Participants will receive:
Evaluation on small-sided games and full field, 11 x 11 matches
Evaluations by Fort Wayne FC Head Coach Mike Avery and technical staff, in addition to college-level coaches from NCAA, NAIA, and more athletic divisions
Supervision by Optimum Performance Sports (OPS) athletic training staff
Registration for the tryouts is now open. Players are asked to complete the online form and submit the $75 registration fee to be considered registered for the tryouts. Registration fees are non-refundable.
Questions? For questions, please contact Rene Sanchez, Fort Wayne FC Team Administrator at Rsanchez@fortwaynefc.com.